Home Page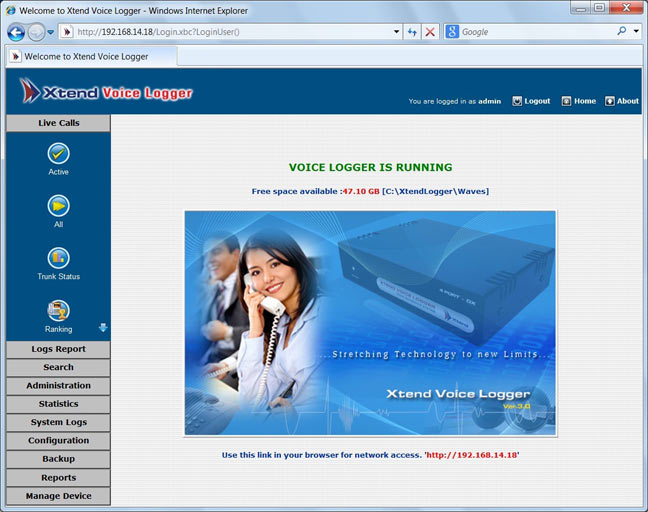 (Click to enlarge)
Home Page is divided into three areas - Upper Area, Middle Area and Left Area. Upper and Left Area remains fixed whereas the Middle Area varies as per the selection of menu in the Left Area.
Call Logs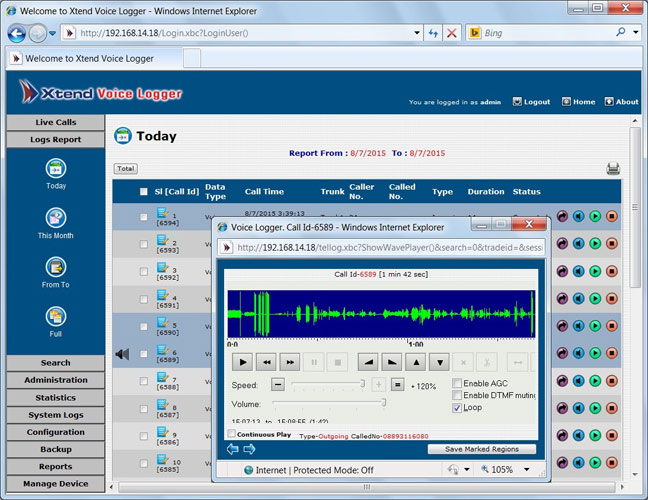 (Click to enlarge)
Easy-to-use remotely accessible browser interface with full-fledged reporting features. Displays complete call details like Caller/Called ID, Date, Time, Duration etc. Listen to real-time calls through an inbuilt Audio Player with excellent tools to analyse the recorded conversation.
User Accounts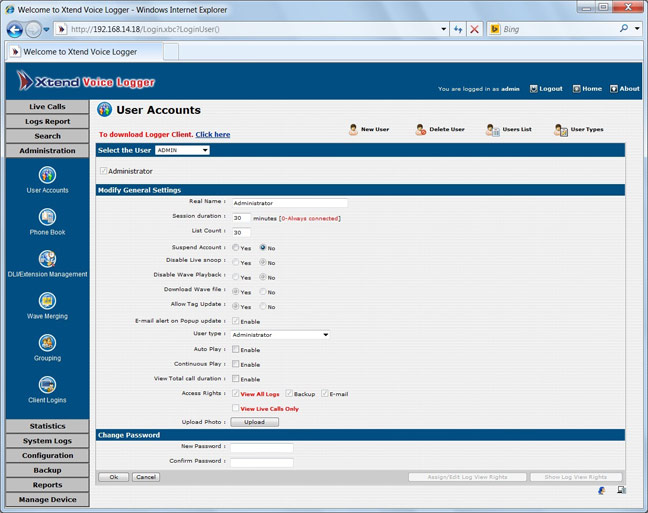 (Click to enlarge)
Multiple users can access the browser interface at different authorisation levels. Administrator can set the access level rights for each user. User Accounts helps to improve the security and protection of the browser interface from any unauthorised access on your computer.
Live Calls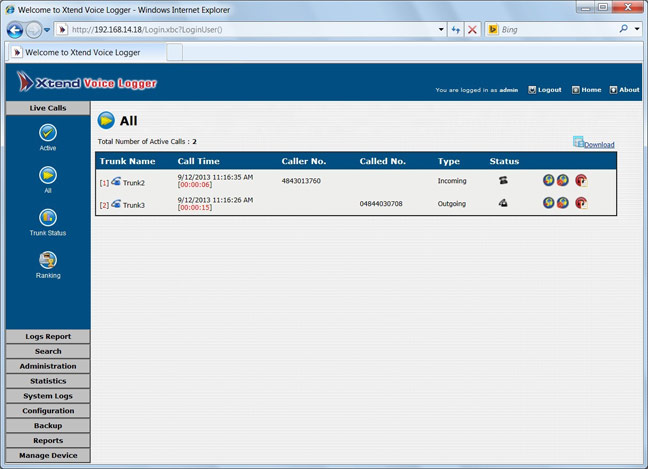 (Click to enlarge)
Listen to active calls from anywhere at any time from the Live Calls menu. View status of active calls in all the channels. Automatic recording, play and hear the snooped call multiple number of times through Audio Player and print reports for further references.
Backup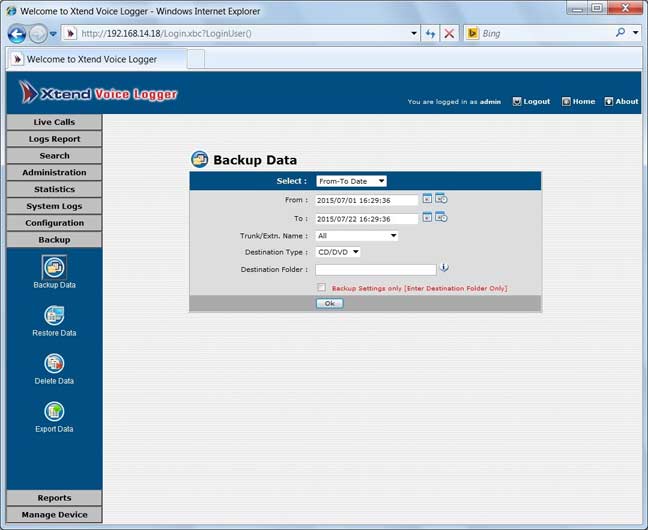 (Click to enlarge)
From backup and restore features of Xtend Voice Logger, it is easier to keep the logged audio files safe from errors or system failures. Backup (manual or automatic) files to CD/DVD/HDD and restore it whenever required. User can also export call reports to HTML/Excel format.
Remote Monitoring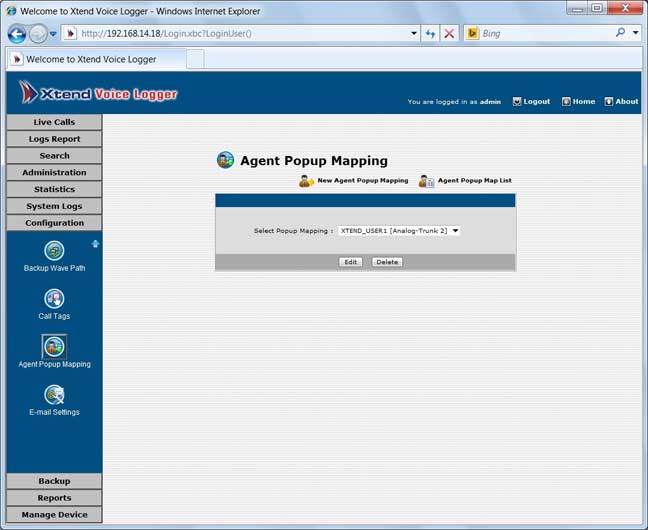 (Click to enlarge)
Download the Xtend Logger Client for live call monitoring from Administration menu, set the IP address and enable popup to get an alert of ongoing calls. Listen to live conversations through headphone and generate reports for interaction analysis.
Call Tags
(Click to enlarge)
Mark tags to crucial calls from drop-down menu for quick identification. User can also customise tags in their own way and assign the new tag to logged calls. Calls with customised tags can be easily distinguished from normal calls. This helps to track call details in a faster pace.
Phonebook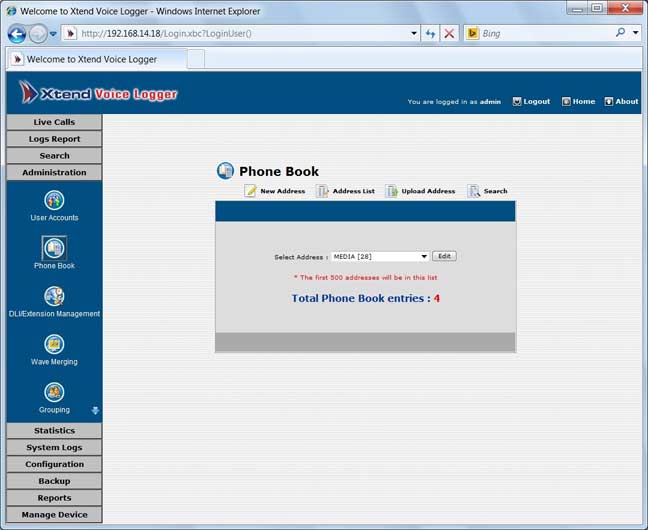 (Click to enlarge)
Phonebook allows you to enter the name and address of the customer. This facility helps the call monitoring official to have a quick identification of the caller whenever an incoming call arrives. Phonebook serves as a central repository of caller's information.
Advanced Search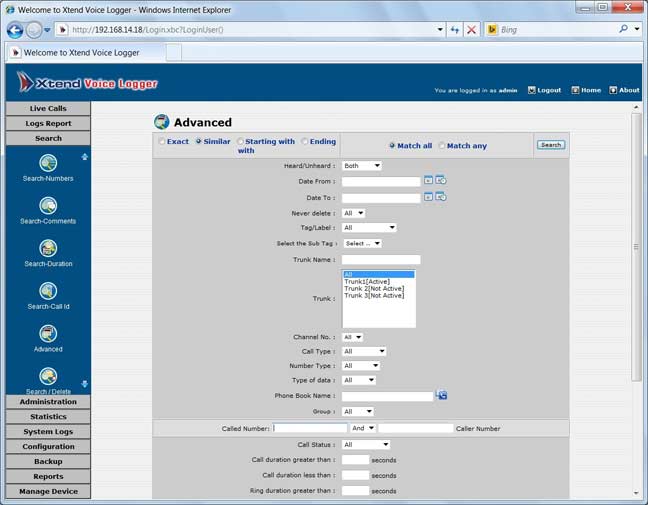 (Click to enlarge)
Search feature helps to retrieve call details on the basis of caller/called number, comments, call id etc. User can go to the advanced search section and retrieve calls on the basis of boolean search. Advanced Search is fast, powerful and focused to retrieve only those details that matches the user-defined criteria.
VX Voice Logger Screenshots Announcement

(Click to enlarge)
The user can choose/delete the Welcome Wave file which will be played after the call is connected. After connecting the call, Repeat Wave can be played if a message needs to be repeatedly announced. The callers are notified about the call recording by a notification message or beep sound.
Voicemail Settings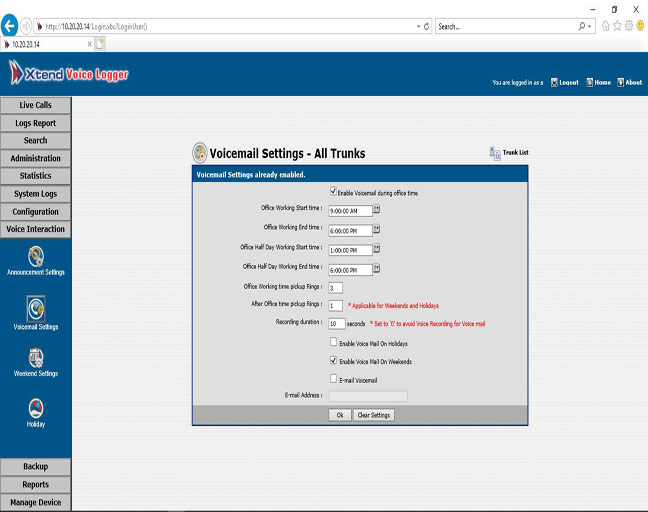 (Click to enlarge)
Voicemail Settings help to set the office working hours in case of half/full day, the number of rings after which the voicemail is enabled in working days or after office hours/holidays and the time duration for recording the conversation. Additionally, the e-mail id to which the audio recordings should be sent can be specified.
Weekend Voice Mail Settings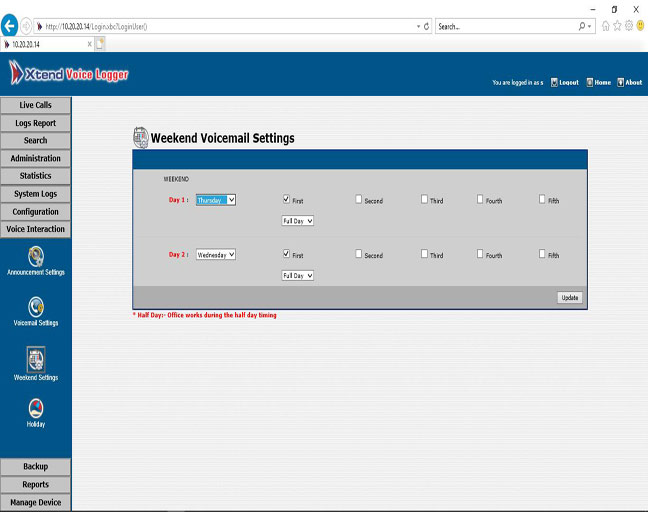 (Click to enlarge)
Weekend days (Day 1 & Day 2) can be set as holiday and it can be indicated whether it is a half day or full day.
Add Holiday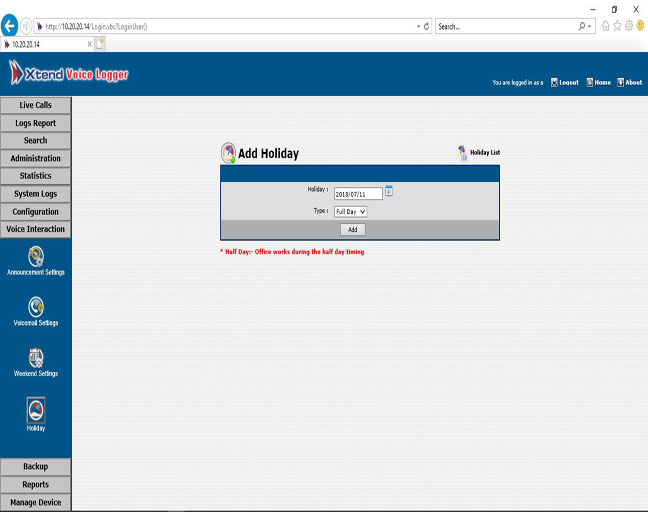 (Click to enlarge)
User can specify the date which should be set as holiday along with the holiday type whether half day or full day. The Holiday List option allows to view the holidays in a year. The holiday list can be edited as per the organisational requirements.