Xtend Voice Logger
Xtend Voice Logger for Analog Lines is a multi-line passive voice recording device that can be used to record telephone conversations occurring on analog trunks and extensions. The Analog Line voice logger is capable of logging call details including the Caller Id, Trunk Name, Ring Duration, Call Duration, Call Start Time & End Time, Call Type (Incoming/Outgoing), Call Status (Failed/Missed/Connected), Board Serial No. & Channel, Recording Format (Compressed/Default) and the actual recorded audio of the telephone conversation. The logger is capable of monitoring and recording trunk-side and extension-side analog lines.

Devices come in 1/2/4/8/12/16 port configurations for DX and 2/4/8 port for the LX model.
LX model is a low-cost lower-featured product which is limited to 16 ports per PC. DX is the fully featured model where multiple devices can be connected to a single PC to scale upto a total of 256+ ports. The 8/12/16 port DX models come in a 1U Rack (tray) mountable size.
Trunk Lines :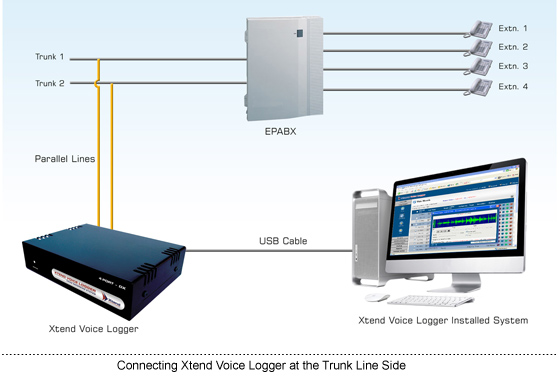 Extension Lines :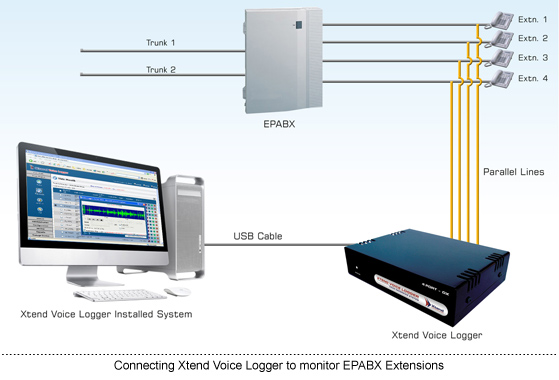 If the Xtend Voice Logger analog line USB device cannot be used in your country due to dealer non-availability or certification restrictions, you can purchase the software only version of the voice logger for use with standard voice logging cards like Ai-Logix and Synway. The flexibility of Xtend Voice Logger software to work with multiple devices simultaneously, enables you to have a unified web interface for your analog, digital and VoIP logging requirements. Unique features present in the product include client popup software that enables call information to popup on any agent PC, integration capability with any CRM software, remote audio live snoop capability and the browser-based user interface that enables remote access from any PC on the network.