Xtend Call Billing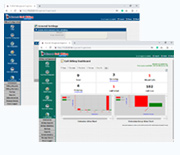 Xtend Call Billing system helps to identify the cost incurred on calls and continuous evaluation helps to optimise telecom utilisation. User can easily identify the areas where the costs are high and optimise the usage through controlled measures. Single line voice recording is provided free and by implementing the Call Billing System with voice logging, the call budgeting factor can be controlled proactively as never before.
Business Advantages
Analyse reports in advance to perceive the overall cost
Statistical presentation allows to check operational efficiency
Check real time status using live dashboard
Optimise call cost by evaluating the expensive call list
Save full-fledged billing reports for future reference
Centrally monitor and manage telephone usage
Eliminate use of unused phones and check unwanted calls
Prevent misuse of telephone and improve productivity
With the best viewing experience on the colour-themed web interface, user can monitor call traffic and phone usage using the live dashboard. Analyse the reports in advance and control call costs using the graphical live call billing dashboard having the overall information about the total number of incoming and outgoing calls. View the overall cost and find specific information about the connected line or extension using the advanced search options. Detailed reports are available with useful information like Call Time, Trunk Name, Extension Number, Extension Group, Duration along with the total call count and cost. Single line recording provided free with Call Billing can be utilised to record the calls of a particular trunk/extension. User can easily access web interface and playback the audio recording to ensure compliance.
Key Features
User-friendly web interface with multi-login facility
Multi colour theme selection available for web interface
Dashboard with real-time graphical charts
Expensive report and peak hour statistics
Configure the trunk, applicable plan and call charges
Advanced search option to retrieve specific calls
Set off peak weeks and holiday dates
Print reports and convert to PDF/CSV formats
Account code based billing reports with detailed summary
Location-wise reports and supports centralised management
Setup preventive measures to reduce the likelihood of excessive expense and experience reduced telecom budget with the use of Xtend's efficient budgeting factor - Call Billing System.