Multi Colour Theme Option For Web Interface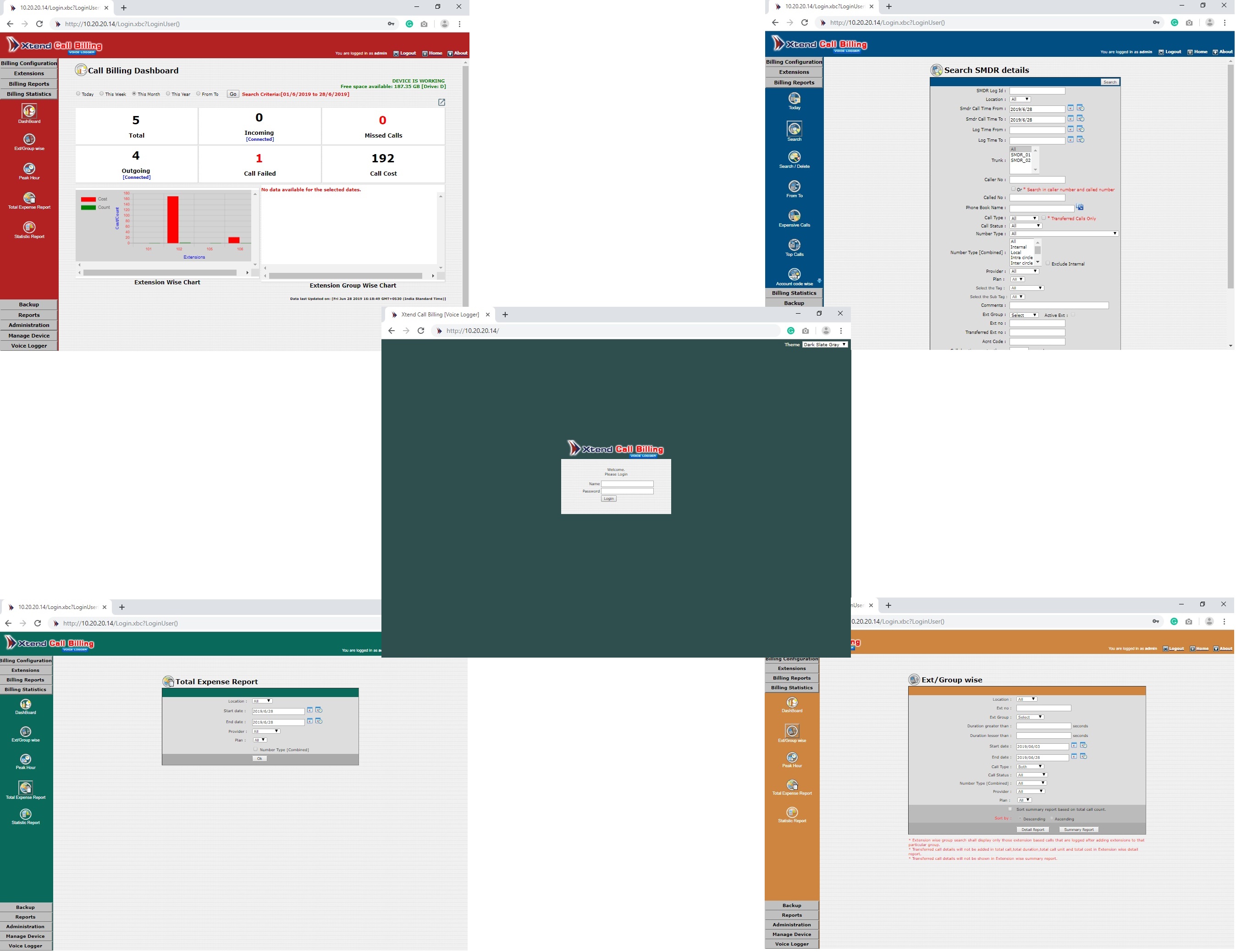 (Click to enlarge)
Get the best possible viewing experience by selecting the colour theme for the web interface. Multiple colours are available. User can access Login Page and select colour to enhance visual experience. Enter username, password for authentication and view the recorded information through the aesthetically pleasing interface. Listen to live calls, track call details and get the call based cost reports using the advanced features.
Dashboard Shows Live Data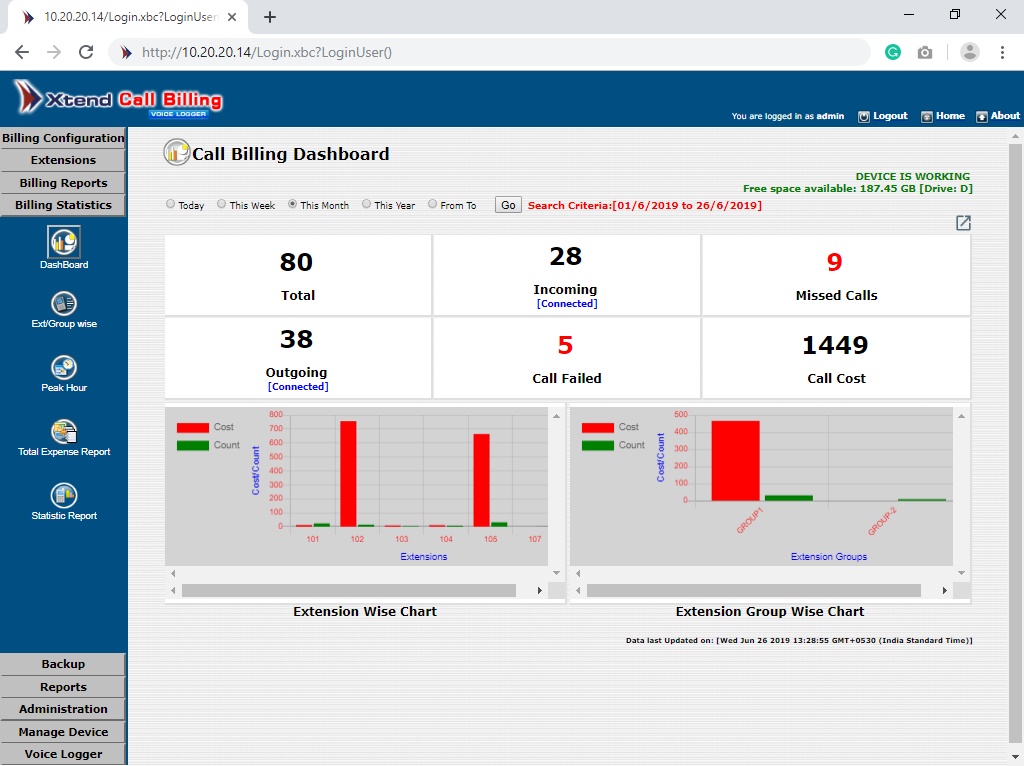 (Click to enlarge)
View Dashboard and get live information about the total number of incoming and outgoing calls. Search and retrieve results based on calls made Today, This Week, This Month, This Year and on the basis of date range. Total calls made, incoming calls, incoming missed calls, outgoing calls, failed outgoing calls and the total call cost are displayed graphically. Analyse reports in advance and control call costs.
Powerful Search Facility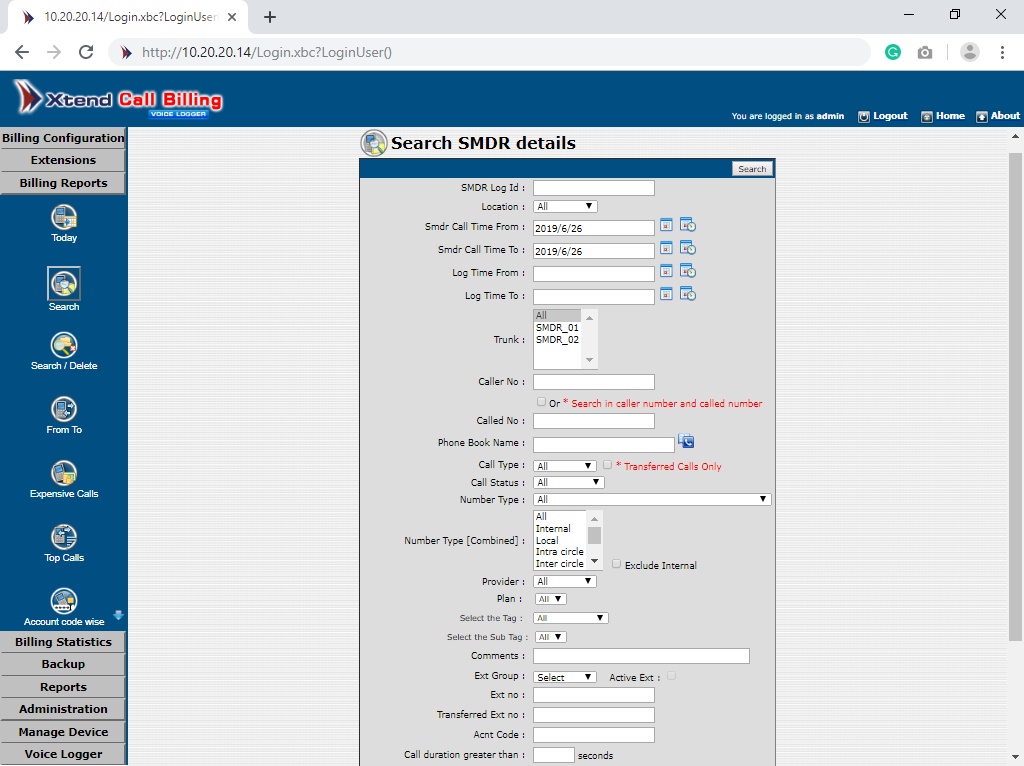 (Click to enlarge)
Utilise the Search option to filter and retrieve call records using SMDR parameters, configure and retrieve location-based service usage and get peak hour report with total call count made during specific days. Sort the search results based on SMDR Call Time, Log Time and Log Id in Descending or Ascending order.
Detailed Reports To Optimise Call Charges
(Click to enlarge)
Enables monitoring of call traffic in real-time. Evaluation helps to take measures and prevent from excessive charges. The solution allows uploading various CDR formats for analysing extensions. The date-wise, extension-wise reports with details like call time, trunk name, extension number, extension group and much more along with total call count and total call cost are available.
Peak Hour Statistics
(Click to enlarge)
Get the location-wise peak hour details of a particular extension by providing the extension number with the peak hour date, time, call type and call status from the peak hour option present within menu named "Billing Statistics".
Phonebook-based Call Reports
(Click to enlarge)
Phonebook-based billing information can be retrieved from the Phonebook Summary Report section by providing details pretaining to Location, Start Date, End Date, Call Type and Call Status.
Email Reports in PDF & CSV Formats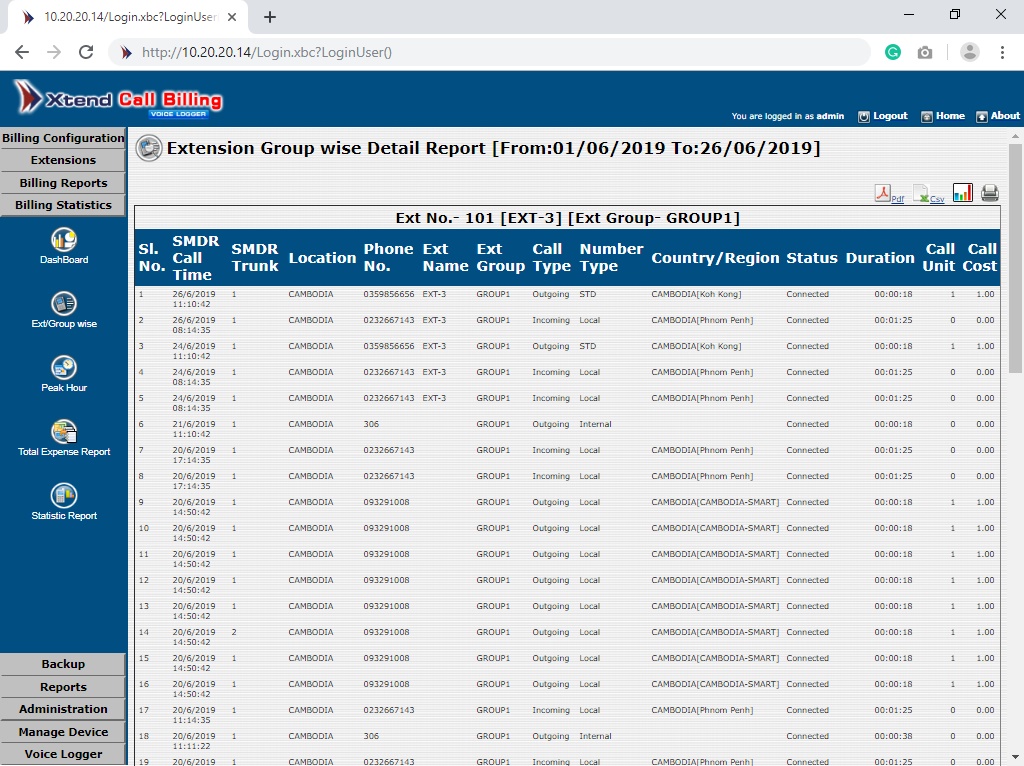 (Click to enlarge)
Generate, print and export search results in PDF/CSV format. It represents the report in graphical format with a table containing the details such as the Extension number, Number of Calls and Call Cost.
Audio Logs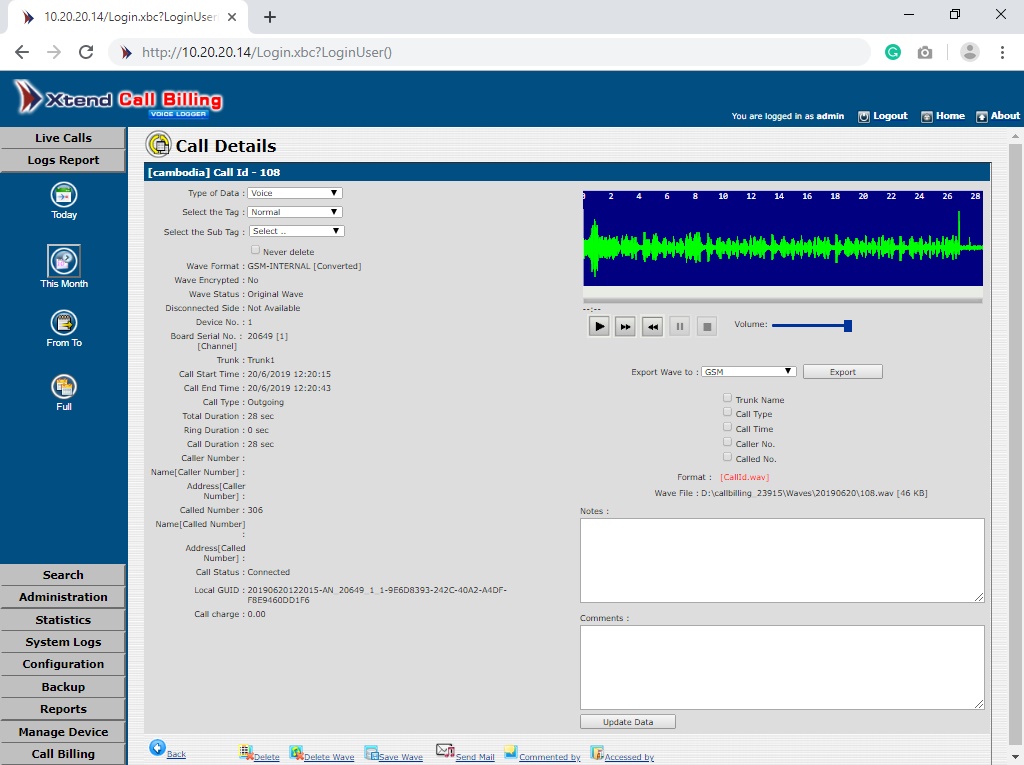 (Click to enlarge)
Call Billing Solution is provided with free recording on a single line. User can playback and analyse the audio recorded from the voice logged channel. Add notes and comments to the logged data and the wave files can be saved and exported in multiple formats.
Expensive Call List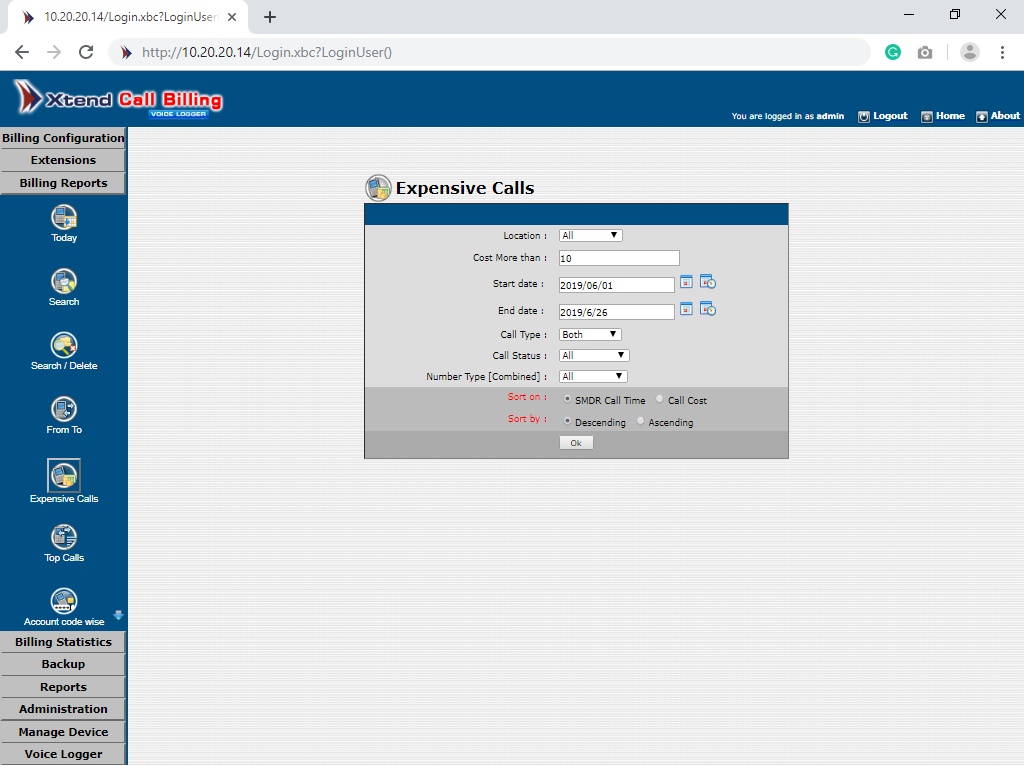 (Click to enlarge)
Review the expensive call with respect to cost and date range to prepare assessment reports for optimising the call cost. Location-wise searching can also be done and sorted according to the SMDR Call Time and Call Cost in Ascending or Descending Order. User can save the reports for future reference.
Expense Report Statistics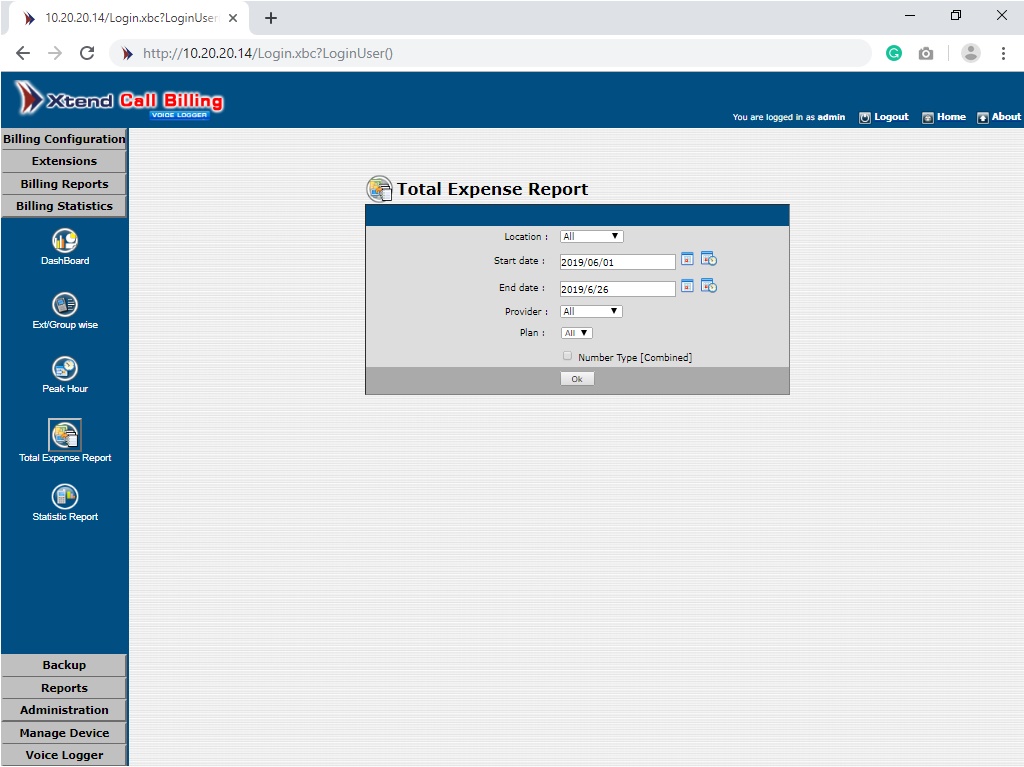 (Click to enlarge)
Enter Start Date, End Date, Service Provider and Plan to get the location-wise report along with the total incurred expenses from the Total Expense Report section within Billing Statistics.
Set Off Peak Weeks/Holiday Dates
(Click to enlarge)
Configure the Off Peak Week Days and add the Off Peak Holiday Date in the Area Code Settings in the Billing Configuration menu.