Live Supervision
(Click to enlarge)
Shows the real time status of call center, information displayed are overall call center status, live call status, agent status, process information as well as call center server and connected line status. Graphical/Tabular representation helps Supervisor/Admin to review call center at any time. Increase productivity and streamline workflow effectively like never before.
Dashboard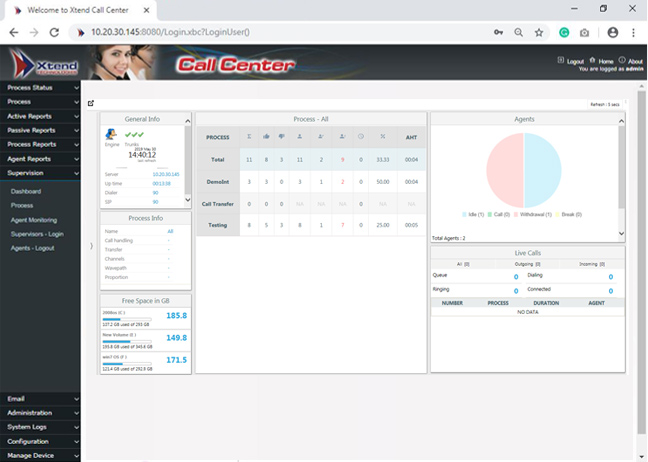 (Click to enlarge)
Provides real-time information about all the processes with information about call handling, live call status like queued/ringing/connected/ transferred modes, agent information i.e., whether attending call/idle/on-break/withdrawal status and more.
Agent Monitoring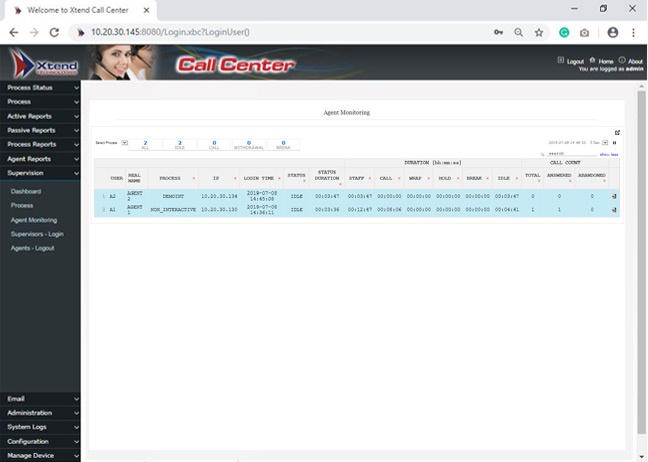 (Click to enlarge)
Current status of agents who have logged-in different processes along with status whether idle, on call/break etc., are available. Supervisor can easily gather information about the activities which helps to track the output and measure the performance of agents.
Live Calls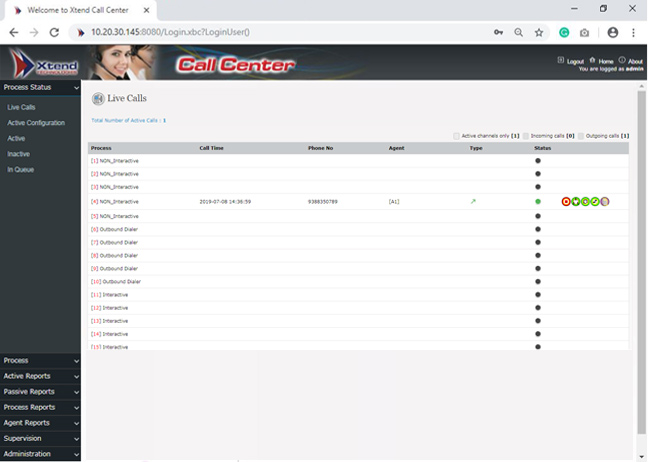 (Click to enlarge)
View real-time call-based information. Track the total number of calls in a campaign and the availability of an agent along with status. Snoop/whisper/barge-in options are available for Supervisor having web snooping privilege to analyse and monitor the calls efficiently.
Set Waves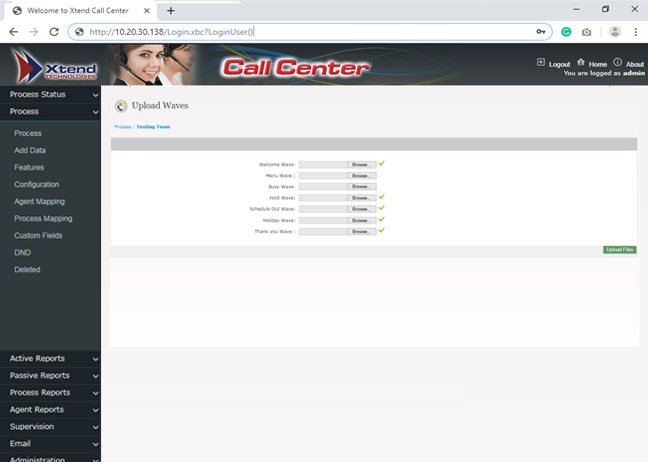 (Click to enlarge)
Upload waves on specific days or time to enhance the pace of assistance. In case, where a specific day is not a working day it can be set as a holiday. The holiday wave file, busy wave file, hold wave, thank you wave, etc., can be uploaded and the corresponding wave will be played on that particular day.
Popup & Custom Fields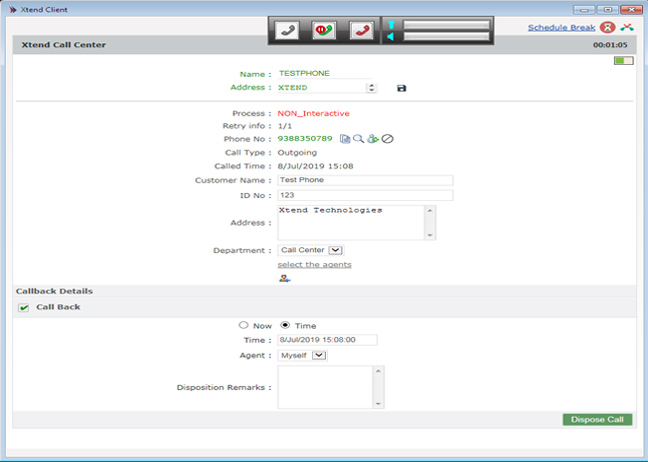 (Click to enlarge)
Popup feature alerts an agent about incoming/outgoing calls and also allows an agent to process the call in a better way and the customer data can be updated in real-time. The popup window comprises of lots of advanced features, for example, user can add number to DND list/Blacklist, view numbers that are in queue list etc.
Re-assign Calls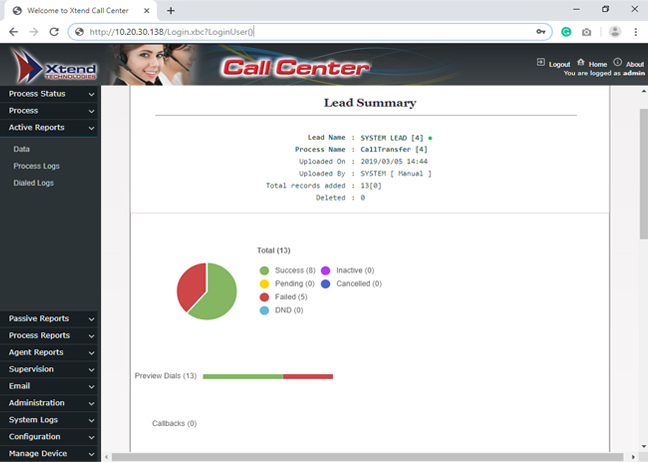 (Click to enlarge)
Call Center allow Supervisor to re-assign the pending/inactive callbacks/preview dials from one agent to another. This helps an organisation to provide better service and quick communication with customer.
KPI Summary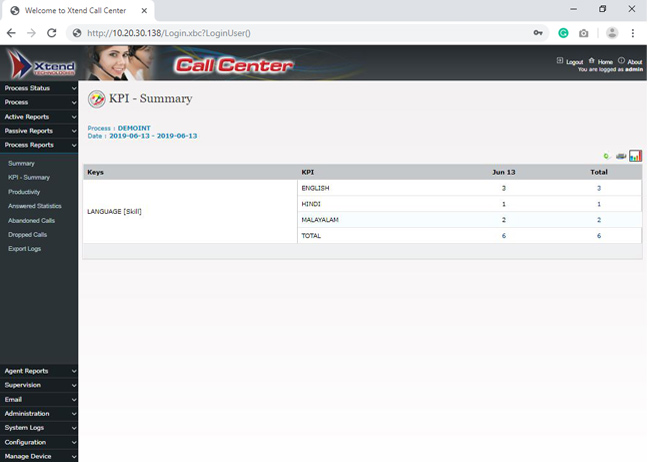 (Click to enlarge)
This feature is used to obtain call information as per the custom fields. On selecting custom fields, process report is displayed, skills like language, number of calls attended in specific language are shown in KPI Summary. Reports can be obtained in graphical format so that user can easily track and analyse the call summary.
Multiple Accounts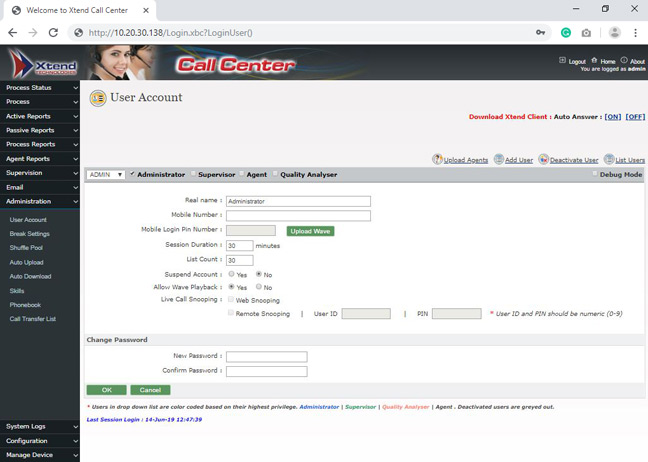 (Click to enlarge)
Create multiple user accounts with Admin/ Supervisor/Agent/Quality Analyser privileges. The role assigned provides different rights like making and receiving calls, web/remote snooping, tracking of agent's performance, call status, access to 'Dashboard' to view call summary, agent occupancy, average handling time, statistical reports and overall call center information.
Advanced Search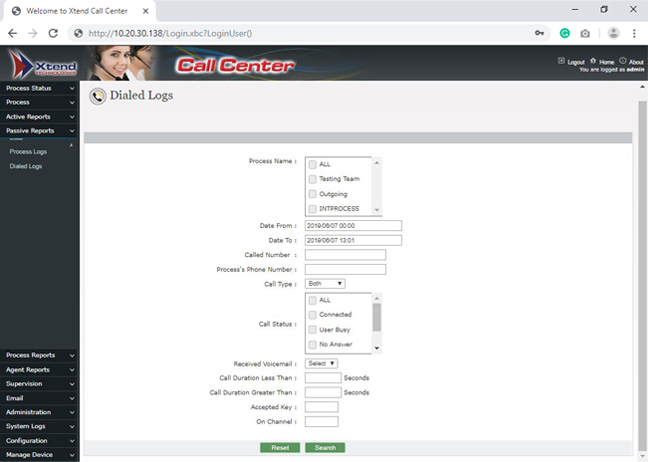 (Click to enlarge)
User can efficiently retrieve the information about campaign activities, inbound and outbound call details and agent information based on multiple search criteria. User can conveniently search and retrieve call logs by providing criteria based on multiple parameters.
Assign Skill Set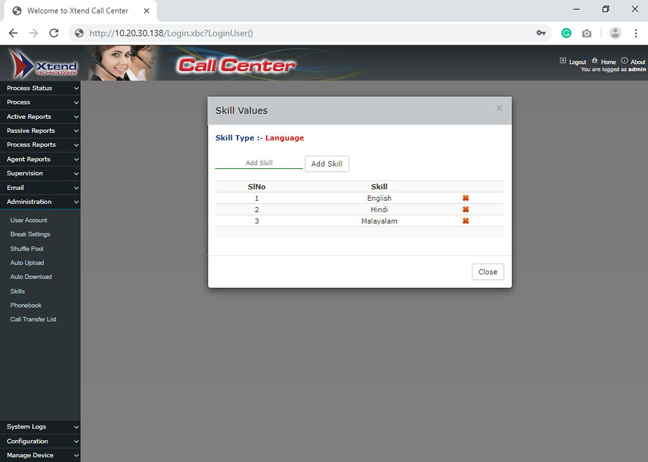 (Click to enlarge)
Call Center System supports scheduling skillset based on 'Skill Type' and 'Skill Value'. Calls are routed depending upon the skill (e.g., language) known by the agent. For example, Skill Type can be set as 'Language' and Skill Value will be the type of language 'English', 'Hindi' etc.
Agent Summary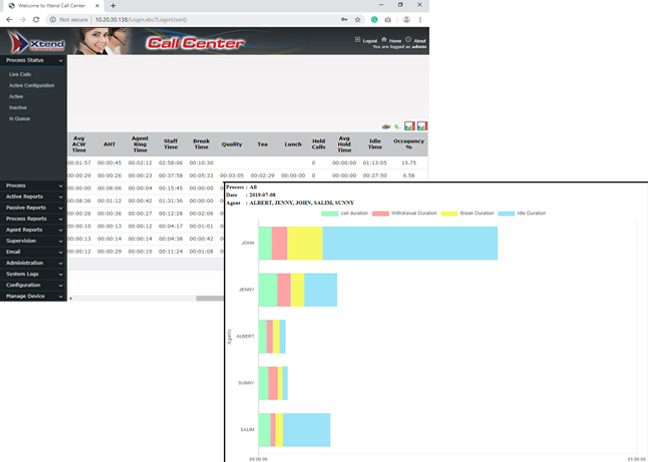 (Click to enlarge)
Gives a brief information about the agent-wise calls based on selected process which helps to summarise and evaluate productivity. With the help of an agent summary report, management can monitor and measure the performance of agents.
Detailed Reports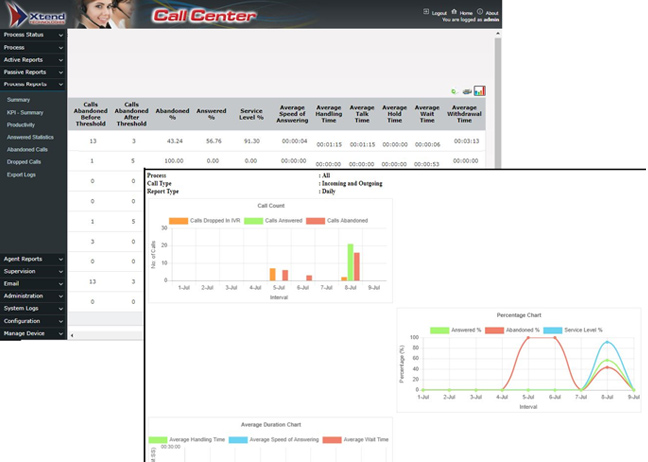 (Click to enlarge)
Manage multiple incoming calls/campaigns automatically and view detailed call reports like IVR answered, abandoned, dropped calls, outbound dialed, Voicemail etc. Monitor and take measures to increase the efficiency of call center.
Abandoned Call Management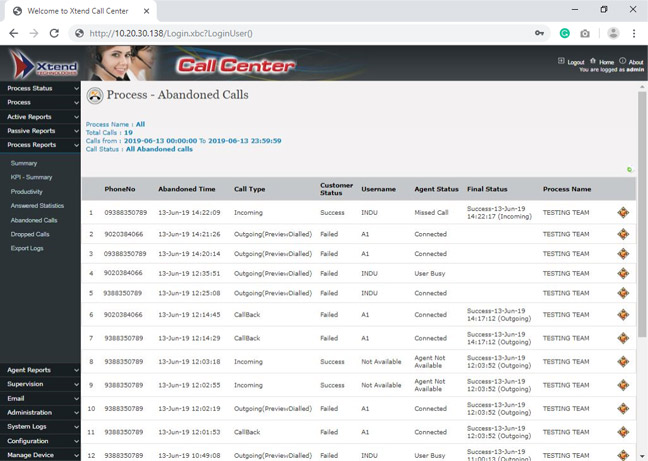 (Click to enlarge)
Abandoned list can be viewed from popup notification window and based on the list, dialout can be initiated. The abandoned calls helps to decide the service level of the delivered campaigns.
Multi-colour Theme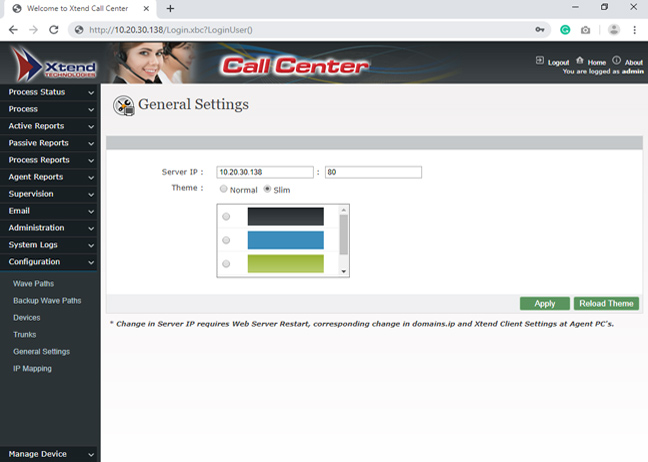 (Click to enlarge)
Xtend Call Center software includes colour pickers to choose and change the colour of the web interface. User can modify the appearance of the interface by selecting his/her favourite theme and enhance viewing experience.